Last week I posted about how much I love wearing dresses and skirts – especially in the summertime. I listed several dresses that I own and love.
This week, let's try on some skirts, shall we?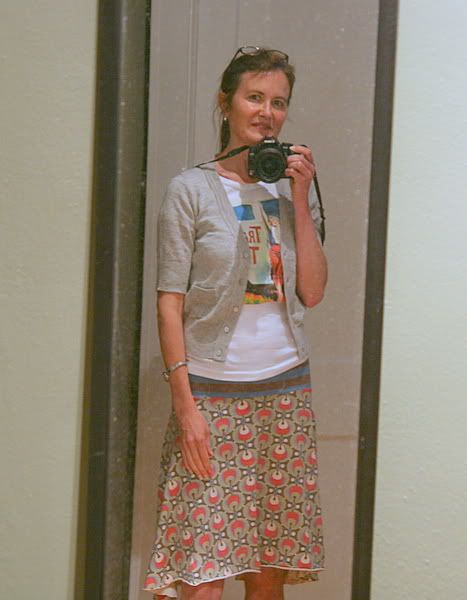 This is my go-to skirt. It is the Disco skirt from Matilda Jane. Easy and soft knit, wash, dry, wear – casual or dress it up, throw it over a swimsuit.  Takes sticky baby hands and washes up like a dream.  Fun and funky paired with my Trailer Trash tee from Vintage Lucy and Cropped cardigan from Target boutique.(you need these cardis in every color by the way)
Most of the skirts I wear in the summer are a light cotton jersey knit – no fuss, no ironing, they feel great on.
Other Favorites:
The Fun Skirt from Boden. They do this skirt every season and I just cannot help myself but grab one. Very fun and versatile.
Sassy Knitwear is a local Minnesota Company. I have purchased some of their kids items and one skirt for me but am in the market for more.  I have my eye on the New Skirt. Their cuts are gorgeous and the quality amazing.  They use organic cottons and everything is simply stunning.
One of my best friends has this roll over skirt from Old Navy and I need to pick a few up for me – easy and cheap summer staple don't you think?
My good friend bought this Rock Slide skirt from Anthropologie on Monday night. If she hadn't bought it, I was sure going to.  Stunning, flattering, yummy and awww worthy.  Treat yourself!
This Nusa Rollover Skirt from Altheta was just recommended to me yesterday.  I love roll/fold top skirts as they are universally flattering.
What are your favorite Summer skirts?  Please share!