I find myself caught some days in that space of being needed every single moment of every single day by these small people I live with – and the thought that pretty soon they will mainly only need me for my money, or lack there of.
And I will say to them "but dears – it's my wisdom you need..my wisdom I want to share with you."
And they will be like "um, wisdom doesn't buy us movie passes or popcorn but $20 does."
And then they will leave me there at home. I will watch reality T.V. and with my cats.
After I do my happy dance.
*****
Today you will find me sharing a Proud Mommy Moment over at Kir's place.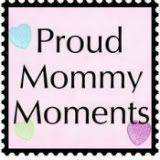 Kir is one of those women that you meet in this amazing land and you wish you were neighbors so she could make sure you never ran out of sugar.  I love her to pieces.  Mainly because she also like shoes.
So please visit me there and leave some love.