My middle-est and cuddliest daughter turns 6 this month. On the last day of the month. The 28th.
She has had a very wiggly tooth for a good week and I sobbed when I left for my trip and told her to not touch it or eat any apples, as a mother needs to be there when her child loses their first tooth.
When I landed, it was the first thing I checked. Tooth still intact. Check.
And then she proceeded to wiggle it upon my return.
Today, on the first day of February. Her birthday month. February 1st.
My sweet Esther RAN off the bus towards me sobbing. Happiness? Pain? Joy? Distress?
"Mommy, mommy, mommy – my tooth fell out when I took a big bite of jicama at lunch.  You weren't there. I cried and there was blood."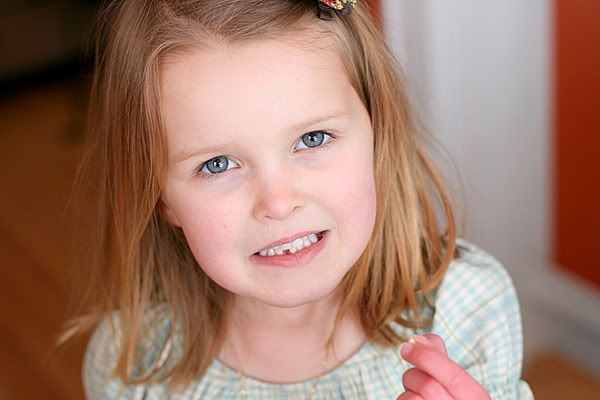 I swept her up into my arms and told her to open that mouth so I could admire that gap and then gave her 28 kisses and told her how proud I am of her. For growing up.
She carefully pulled an envelope from her backpack and handed it too me as she giggled.  "My tooth, it's in there."  Lovingly written on the outside of the envelope by her teacher was "Esther, first tooth lost on February 1, 2011 at 12:10pm during lunch."
So kind of a teacher to remember those details and to know, as a mom, I would want to know them too.
The tooth was carefully put beneath her pillow.  A half hour ago I realized I have to go swap it for money. My purse is empty.  Jed's wallet contains just a single one dollar bill and a twenty.
I gave her the twenty.  I don't think Jed will mind.