"Mama – wouldn't it be amazing if I pressed the jewel on my ring, my wishes would come true?" Esther asked.
"Why don't you try, Esther and see what happens?" I replied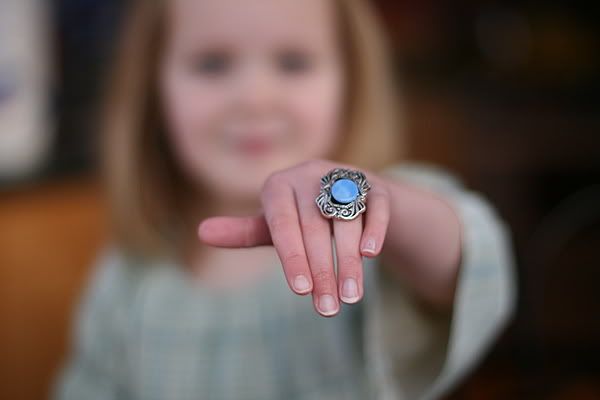 "No, I don't think it will?" Esther answered shaking her head.
"Why not?" I prodded.
"Because I really want a unicorn of my own…do you really think I can have one if I wish hard enough?" She perked up. (note, I am now getting slightly concerned about Esther's obsession with unicorns.)
"Of course you can!" I answered.
******
So Esther pressed her ring and closed her eyes and when she opened them she excitedly said "I see him – I really do – do you think he'll take me anywhere I want to go like over the rainbow and around the world?  Oh mom, I cannot believe he is here!"
******


A little later when Esther tired of playing with her pet unicorn, she came and snuggled on my lap and quietly said "mom, why don't you press the jewel on your ring and make your wishes come true?  Maybe you can have a pet unicorn."
"Oh I don't need to do that" I replied "all my wishes have already been granted and you are one of them."
****
What are you using your magic rings to wish for?
Linking up with Darcy at Sweet Shot Tuesday.