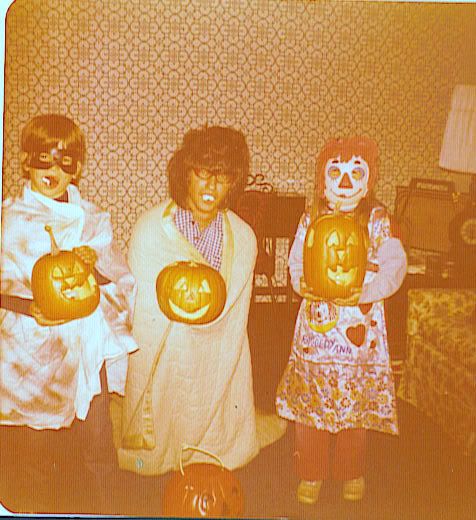 (What I love the most about this photo is that I am 7 and holding a pumpkin WITH A LIT CANDLE inside.  Way to go, Mom)
I am going to start right off and tell you that Halloween is not my favorite holiday.  I am a bigger fan of Memorial Day and Professional Assistants day than I am Halloween.
I am afraid of the dark, I do not like scary movies, I still shower with the curtain open waiting for Norman Bates to attack me, and I do not have a fondness for candy.  And I am rude to little kids who do not use good manners when I give them candy.  If they do not say thank you, I always say loudly for the parents to hear "and what to do you say…??" I am mean like that.  But I have told my kids that if I do not hear thank yous at every door on Halloween night, we go home…immediately and daddy gets their candy. I am totally the F in Fun.
I grew up in the early 70's when the crazies took the fun out of Halloween – the razor blades in the apples (YES, we got fruit in our bags), the poison in the candy.  We would line up at the hospital to have our candy X-ray'd before we could eat it.  Kind of takes the fun out of it.  Hey parents in 1973, better idea – instead of making your kids put on snowsuits and tromp around the neighborhood begging for candy that they cannot eat – just buy them some.
I also came from the era of those awesome plastic masks that you could not see out of and tripped and bloodied your nose almost every year. Good times.
So without any further ado – My favorite memories of my worst Halloween moments..
10.  Working at a haunted house when I was 11. Should've been fun – but when I would jump out to scare people, the teenagers would flick my face and spit on me. I cried more than I said 'boo'.
9.  I decided to make Esther's costume when she was 2. A pea…so they could be the princess and the pea.  She bawled and fought with me. I do not blame her as she had to wear a sweatsuit from Wal-Mart and a very ugly costume that I tried to make. She wanted to be the princess too.  Well duh, who wants to be the pea?
8…probably not the girl who the next year I made be the lion from the Wizard of Oz while her sister – aka the princess, was now the beautiful Dorothy.  Esther even said that year "why do I have to be the boy costume?"  Never again. Sorry Esther.
7.  The year I was a cute green spotted clown and thought a bandana was the appropriate head-covering?  I was in 6th grade and was running home and tripped and slid about 30 feet across a muddy field and came up just covered head to toe in mud and my candy spilled everywhere.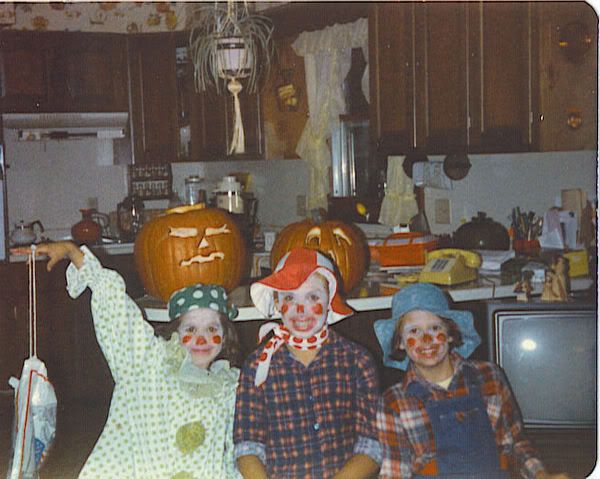 (Nice spider plant and macrame, Mom. Does anyone still macrame or is that a lost art?)
6.  The first 3 years of my life, my mom saved money on costumes and used her lipstick and eyeliner to "paint" our faces and just put us in snowsuits as in Fargo, North Dakota or Duluth, Minnesota – it is really too cold to wear costumes anyway. So our Halloween pictures just looked like this.


5.  When we finally did get real honest to goodness store bought costumes, my mom bought them in a large size to fit over our snowsuits – AND double bonus – So I could wear them for 3, yes 3 years in a row.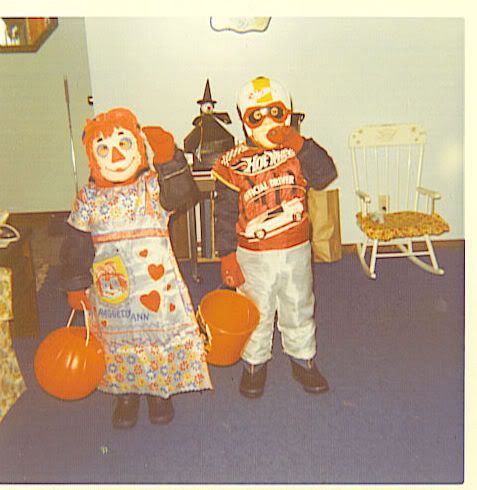 4.  Bad college costume choice #1 – instead of going as a cute french maid or Alice the Wonder-ho..I decided to be a gumball machine during my junior year.  Yes, I filled a clear garbage bags with about 50 little balloons that puffed out from my neck to my knees.  Awesome.  Except I drank beer and had no way to pee.  Not awesome.  Desperation made me a party game of sorts as everyone jumped on me to pop the balloons so I could pee.
3.  Bad college costume choice #2 – my freshman year in college, got into a bar with my aunts drivers license(thank you, Auntie Gail), went with a bunch of other girls – they all were smokin' hot in their pocahantos costume, cheerleader, french maid.  I went as Bob Marley.  Oh yes I did.  And yes,  to answer your obvious question, I went home alone that night. very alone.
2. In Junior High, a bunch of us corned(if you are not from Indiana, sorry if you do not know what this is), eggs, toilet papered, and soaped a neighbor's house.  We got totally busted because we took paint off of their house and ruined their garage door.  We spent a lot of time apologizing, cleaning, repairing and paying for the damage.  Warning to current 14 year olds – DO  NOT DO THIS, YOU WILL GET CAUGHT.
1.  And my all time favorite bad Halloween memory is when I was 13 – first time not trick-or-treating – we went to Washington D.C. to visit my aunt.  My brother and I were handing out candy and when we opened the door we got ambushed, pushed to the floor and these kids TOOK our whole bowl and candy and ran.
So Happy Halloween to you all.  If you feel the need to make me feel better, just send wine.  Red. Red. Wine. – see Bob Marley – he haunts me to this day.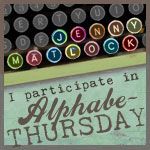 Linking up to the SitsGirls Halloween memories too!