I live in dresses and skirts in the summertime.  Frankly, I feel a bit old for shorts and unless I am on the golf course or jogging, I just feel a bit out of place in them.  I also refuse to wear hooded sweatshirts. In case you were wondering.
Capri's are out and always have been. Sorry ladies – but Capri's do nothing for your legs.  They make your legs appear shorter, cut them off at a strange length and are just a strange creation.  Are they really cooler than just full length pants?  Really? Does that 5″ make a difference?
A skirt or dress is breezy and light – it can be casual or dressy or both if you accessorize correctly.  If I may be honest, on a hot summer day it also provides a wee bit of ventilation.
I can feel sweet, sassy, feminine, stylish and frankly hot in the right dress or skirt. I have never felt that way in a pair of shorts or Capri's.
I had been meaning to post some Summer dress wardrobe options, but Rachelle's post about her son calling her Amish for wearing a dress made me kick this post into high-gear.
The dresses I am mentioning are all modestly priced, casual and flattering to many body types.(and no one has paid me for any of these reviews – these are dresses in my own closet that I purchased)
My favorite dress this Summer is the Ruched V-neck dress from JCrew.  It is flattering with an empire waist and a comfy, soft cotton lightweight knit.  Casual for the playground or a cover-up for the pool and amazing with a hot necklace, dangle earrings and heels for the evening.  I have the gray and navy. I like the sexy neckline and do like to wear sleeveless in the Summer. Cute with a cropped cardi though too if you are looking for a more modest option. I am frankly a boob girl – and since I have none, like to see a little showing. Just saying.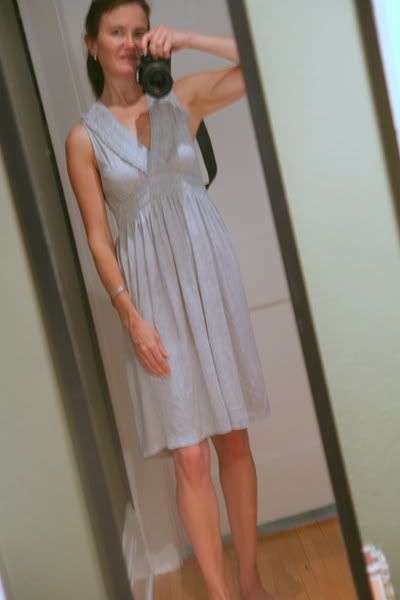 More favorites:
The Juniper dress from Matilda Jane. Love the color, the flutter sleeves and high waist.(and I am not being biased here just because I happen to sell it…;0)
The Essential Summer dress from Boden.  A favorite for several years. Gorgeous and more modest cut. Longer skirt and wide banded high waist.  Awesome throw-on dress.
Printed Crinkle dress from Boden.  Fabulous and light. Amazing for vacations. Extremely flattering.  Highly recommended.
Old Navy Shirred front Dress – super easy and inexpensive dress.  I get sticky baby hands on me all day – so this is the perfect go to dress for hanging with the kids.
My friend Molly is having a contest right now on her blog to win a Shabby Apple Dress. I admit I have browsed their website many times, but have never purchased. So I am hoping I will win.  Even if I don't I am sure I will place an order at one point.  I am Bossy swears by hers and I totally trust her fashion advice also.
My 2 dream Summer dresses that I have not purchased yet are from Anthropologie. They are more budget breaking, but I need to convince myself that I am worth it. (and so are you)
I hope you found this helpful on finding some Summer dresses for you.  I would also love to know what your favorite dresses are for the season – so please share in the comments. I am always shopping.
Happy Shopping and dress wearing.