Dear Lunchbox,
I am so happy that I do not have to see you again for 3 months.  Three happy months.  Every morning for the past 173 days you have taunted me from the counter.  I read Eloise the daily menu and hope and pray she will say "okay, I will take hot lunch today!" – I try to convince her of the benefits of eating the schools beef fried rice and goulash.  I had luck a few occasions with the turkey corn dogs or, of all things, pizza.  But usually every morning I packed her lunch in YOU.
And oh yes, I was one of 'those' at the beginning of the year, planning my cute little bento style lunches in cute individual containers. Oh we had some good times back then lunchbox.   Back when I arose at 4:30 just to cut up her cheese into cute flower shapes, to gently put grapes and blueberries on tooth picks as kabobs. Oh I rolled my share of turkey so cutely around cream cheese.  I filled your containers with organic crackers that I am sure were ground from wheat raised by Amish farmers and shaped with love by people who don't wear deodorant.  The milk I packed was evidently immediately from the cow by the price I paid.
I carefully packed this lunch in you – this lunch full of love, time, organic yummies and at a cost of probably $25.  Oh how proud I was of my success.
Slowly Mr. Lunchbox, things changed.  Eloise would accidentally throw away one of your cute little containers, so baggies were purchased.  I couldn't afford the $8 of Amish ground wheat crackers anymore and Pringles were free this week at Target with my coupon.  Blueberries were no longer in season and cinnamon applesauce was requested. Turkey became a delicacy and pretty soon I was even too lazy to slap peanut butter on wheat bread – so I found an AWESOME invention and threw a frozen sandwich in the box and killed 2 birds with one stone since I could now leave out the ice pack.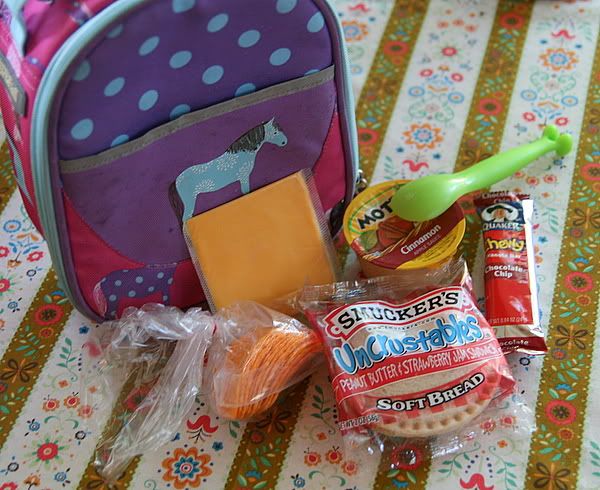 I don't even remember that bento loving mom back in September with her cute little perfectly packed lunches full of organic goodness.  The lunches that the other kids made fun of.  The lunches that Eloise basically just threw in the garbage.  So this, this is the lunch I packed for my daughter the last day of school this year.  And you better believe she ate every bite and then threw the baggies in the garbage.
xoxo,t