Oh about a month ago, I wrote a post about one of my favorite books.  It was my intention at the time to start a new weekly Friday post called "Friday Favorites" – just random things that I love – as a mom, a woman, a human, etc.  (No one is paying me(ha – as if) or asking me to write about these items.)
Well, since I haven't posted a Friday Favorite since, my intentions were awesome but my execution was not so awesome.
So here we are again – trying for more continuity.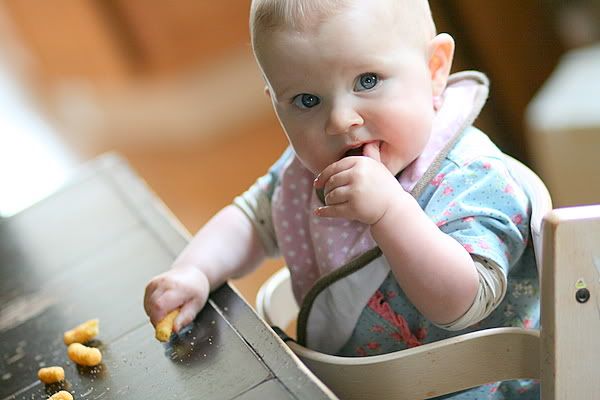 (those are not cheetos – they are some freaky corn-puff baby concoction – really.)
This Friday – a favorite that I am sharing is the KinderZeat from Stokke. I have never used/bought a traditional highchair for my babies.  Before they are old enough/strong enough to sit in the Stokke, I just feed them in their bouncy or on my lap.  But, at about 8 months of age, they are old enough to sit-up in the KinderZeat.
I bought the Stokke from Prenatal in the Netherlands when I was pregnant with Eloise.  I wanted a child's chair that would accomodate a baby, look more like a piece of furniture than a piece of plastic highchair, that allowed them to join the table to eat – and never use a tray that was separate from us, and that would then turn into a booster chair.
The stokke has fit the bill perfectly and I had to kick Esther, at 5 years old, out of it to make room for Astrid.  She was not happy.
The Stokke has been pulled up to our dining room table for 7 years now and it is still as awesome as it was the day I unpacked it.  It shows virutally no wear and all 3 of our kids have loved it.
It holds up to 300 pounds – so even Jed could use it if he was so inclined. After the kids are done using it at the table, it will also be a very cool desk chair.  I can see the Stokke going off to college with one of the girls someday. (Well, not with Esther, because she is not going to college. She plans on winning American Idol when she is 16 = awesome.)
Any Favorite items that you want to share with us today?
xoxo,t