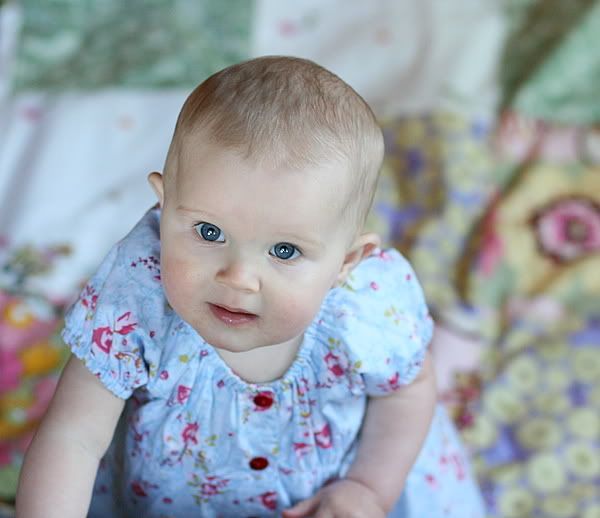 About 10 months ago, I had a baby.
Shocking news?
About 2 months ago I moved her out of my arms and into her crib – newly purchased from Ikea.
Her crib moved into her mostly empty room – filled with a few stacks of leftover books and stuffed animals from her sisters and a closet full of Esther's clothes.  A lonely rocking chair sat in the corner.
10 yards of fabric was piled on the chair – the fabric I bought to make her bumper, her crib skirt, throw pillows, curtains.
HA!
Slowly I have hung 2-3 pictures, I have put her ruffled dresses in her closet, she has an area rug and a bumper on her crib.
Last week I made a few throw pillows and this week I made a quilted duvet cover for her and started the matching vintage patchwork curtains.
I put her on her new duvet, meaning to take a picture of my handiwork.
But my baby is too cute to not steal the show.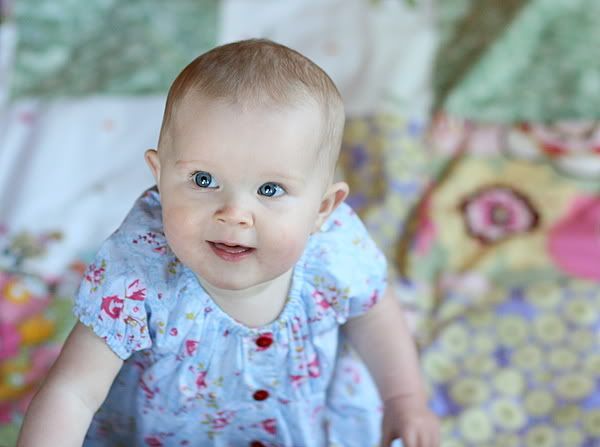 And she doesn't seem to care that she doesn't have a proper nursery.  Maybe by the time she is 10 it will all be done.
xoxo,t