I thank you all for your kind, open and insightful words and comments on my mean girls post this week.
For now, I just want to make sure that my girls come to me, talk to me, I keep the lines of communication open between us, and I make sure that I am setting a good example.
So, I have been coveting these pillows for quite some time.   But alas, cannot justify $90 on a pillow(although someday I will…or receive a gift perhaps…) at this time.  (You know, since I don't even have a dryer.)  So I spent $5 on materials and made a cover for one of my existing throw pillows.
When you enter our home – this is the first thing you now see.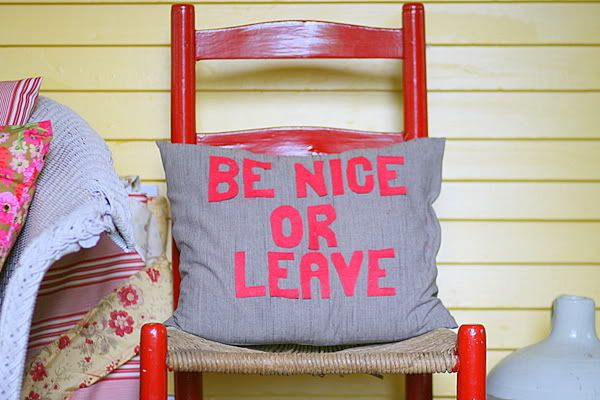 ..and I mean it. Or else.
And I also made this one with the same $5 – you know, it reminds me of my blog signature…and spreads the love.


I have also started practicing what I preach.  For example, today 2 lovely women knocked on my door to share the love of their beliefs.  Instead of my usual behavior of seeing them coming with their Watchtower pamphlets, and me quickly hitting the floor, hiding behind the couch and telling the kids to be quiet – you know, pretending to not be home…I actually answered the door, made a comment on the weather, told them politely that I was not interested and offered them both a bottle of water for their journey today.
..and to further my love – I would like to know what you are doing to be extra nice today?  Are you delivering May Day baskets to your neighbors?  Giving your UPS man a kiss?  Making your husband his favorite meal?  Folding your friends laundry? Whatever it may be – leave a comment here and let me know.
Leave a comment on this post by Sunday night(May 2nd) 9pm Central and I will randomly choose one comment to win one of my special homemade "Be Nice or Leave"(or XOXO if you wish) pillow covers. Totally free, from the kindness of my sewing machine. ( No purchase necessary and void where prohibited by law.
xoxo, t